2010
[
]
Welcome
[
]
Hi, welcome to Afro Samurai Wiki! Thanks for your edit to the Afro Samurai page.
If you need help, and there are no local admins here, you may want to visit the forums on the Community Central Wiki. You can also check our Staff blog to keep up-to-date with the latest news and events around Wikia.
Happy editing, Sarah Manley (help forum | blog) —Preceding unsigned comment added by Wikia (talk • contribs) 10:42, August 23, 2010
Adopting
[
]
Hi. You've done a great job editing here so far. I have given you admin and bureaucrat rights. Good luck and have fun! -- Wendy (talk) 04:20, September 11, 2010 (UTC)
2011
[
]
Wikia Anime on Twitter
[
]
Hello, I'm Kate from the Wikia Content team. We are trying to create a WikiaAnime Twitter group, where all of the amazing wikis can come together and share their most exciting information, and hopefully get a lot of new users! To join, all you need to do is post this Twitter button and tweet list on your main page.

<twitteruser username=WikiaAnime limit=3 />
Then you can visit the Anime Twitter Suggestions Page and post tweets you'd like to see, with links back to your wiki.
Please share this with your other members and admins and see if it's something they'd be interested in joining! Let me know if you have any questions, and we hope to see you there! Kate.moon 10:14, February 9, 2011 (UTC)
Hey, Just wanted to tell you that I'd like to put the Twitter button on your mainpage. I think it'll help you guys get more users and traffic! It's been doing well in other anime wikis! Kate.moon 01:28, March 8, 2011 (UTC)
2012
[
]
Hi adopter
[
]
I found your wiki because it was linked to on w:c:AnimeBaths:Afro Samurai. I was wondering, is that page cool enough to link back to? +Yc 07:00, September 28, 2012 (UTC)
Hi, I'm a big fan of Afro and WIkis, so when I came here and saw you guys needed a logo, I decided to make one.      -Funkmaster B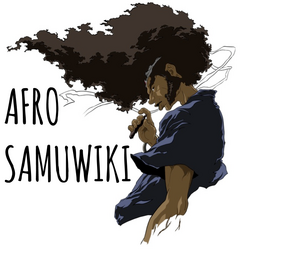 New Wiki Manager
[
]
Hey! I'm taking over as your new Wiki Manager. My job is to help support anime wikis and their communities across Fandom, so if you're ever in need of any technical/community assistance, please feel free to contact me! I'm also on Discord (Stygies VIII#0313). – Stygies VIII (My talk | My contributions) 23:27, July 15, 2020 (UTC)
Checking
[
]
Hey, I'm back after a few weeks away from work. Did anything happen, are there any new issues I should know about? – Stygies VIII (My talk | My contributions) 21:35, October 16, 2020 (UTC)