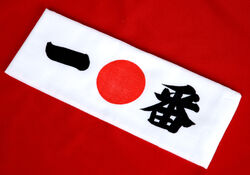 The Number One Headband is a sacred cloth Headband believed to bestow various things including Godhood, Immortality, Supernatural Powers, Great Knowledge, etc..
The One who wears the Number One headband is said to rule the world but to become the Number One you must kill the current Number One. Only those who wear the Number Two Headband may challenge the Number One for ownership of the Sacred Headband. The Number One and Number Two are the two most famous Headbands but as revealed in Afro Samurai Season 1 episode 5 there are many other Headbands. It is unknown if the owners of the Headbands may challenge the Number One or if they were originally required to challenge the Headband Wielder of the ascending order. Example: the Number 3 could only challenge the Number 2 and be challenged only by the Number 4 and he could only be challenged by the Number 5 and so on. The Number One is rarely challenged as the owners of the Number Two Headband are seen, in the events of Afro Samurai Season 1, to often be killed by others seeking it.
Known Owners of the Number One
[
edit
|
edit source
]
Community content is available under
CC-BY-SA
unless otherwise noted.