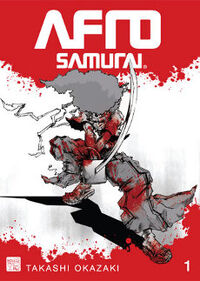 Afro Samurai is a manga written and illustrated by Takashi Okazaki.
Afro Samurai was originally published in the self-funded Nou Nou Hau dōjinshi magazine. First appearing in issue 0, the dōjinshi version was first published from September 1999 to October 2000.
After the release of the anime version, Takashi Okazaki recreated the original dōjinshi. Although the recreation of the original manga was created in Japan, it was first published in the United States by Seven Seas Entertainment and Tor Books in two tankōbon volumes. As a special supplement, thumb-nail sized clips of the original dōjinshi were shown at the end of the first volume. The English release of the manga was Tor Books and Seven Seas' first publication under the newly formed Tor/Seven Seas imprint. The manga was also released in Italy through Panini Comics' manga publishing division Planet Manga, starting on April 9, 2009. The manga was released in one volume in Japan on December 18, 2009. The limited edition came with all the issues of the original dōjinshi included in a separate volume.
List of Chapters
[
]
No.
Title
Release date
ISBN
1
Nothing personal...it's just revenge.
September 2008
ISBN 978-0-7653-2123-7

Chapter 1
Chapter 2
Chapter 3
Chapter 4

Chapter 5
Translation Notes
Supplemental Material

Afro witnessed his father get killed by Justice. Afro, now with the No. 2 headband sets forth to avenge his father's death. On his way Afro encounters several foes.
2
Death isn't the end...it's only the beginning.
February 2009
ISBN 978-0-7653-2239-5

Chapter 6
Chapter 7
Chapter 8
Chapter 9

Chapter 10
Honorifics Guide
Translation Notes
Creator Interview