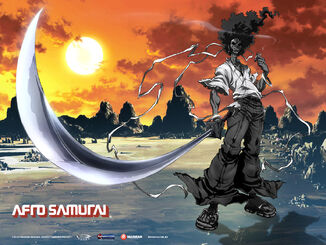 A producer from the Japanese studio, Gonzo, happened to find them and thought of an animated TV project based on the series. The anime took three years to develop, and in the three years the studio also created a trailer, which happened to fall into the hands of Samuel L. Jackson. It was announced that the project would be a five-episode "creative collaboration" between Samuel L. Jackson, Takashi Okazaki, and Gonzo, with a music score by hip hop artist The RZA from the rap group Wu-Tang Clan. In 2006, it was announced that Funimation acquired the rights to the anime series which would premiere on Paramount Network later that year, and that Samuel L. Jackson would voice Afro. Afro Samurai debuted on the Paramount Network on January 4, 2007. The series' worldwide premiere was on Paramount Network's website where they streamed the first episode online. The anime was later released on Japanese television Thursday, May 3, 2007, in English with Japanese subtitles. The Japanese airing was released completely uncut. On Friday, May 11, 2007 Funimation released the first Afro Samurai DVDs at Anime Central, at their own booth, the regular Afro Samurai: Paramount Network Version and the uncut Afro Samurai: Director's Cut. Both DVDs were released to the public on May 22, 2007. On September 4, 2007, all five episodes of Afro Samurai were released on iTunes. To promote this, Funimation released eight custom designed iPods by Takashi Okazaki. In 2008, Funimation released the Afro Samurai anime series onto Xbox Live in high definition format and also debuted on Blu-ray Disc in that year. Also in 2008, Afro Samurai was shown at the German Film Festival in Germany.
List of Episodes
Edit
#
Title
Original air date
01
"Revenge"

"Number Two"  

January 4, 2007
As a boy, Afro witnessed his father's death by the hands of a man looking to claim the title of No. 1. Now a grown man, he has the title of No. 2 and sets out on his journey of revenge. 
02
"The Dream Reader"

"OKIKU"  

January 11, 2007
Afro relives his harsh past through his dreams when he is discovered by an old friend at a riverbank who tends to his wounds. It seems she is out for revenge as well 
03
"The Empty Seven Clan"

"THE EMPTY SEVEN CLAN"  

January 18, 2007
As The Clan of the Empty Seven continues to put pressure on Afro, he must battle his deadliest foe yet, himself. 
04
"Duel"

"KUMA"  

January 25, 2007
The past comes back to teach Afro a lesson about the consequences of choosing revenge over family, and what it really means to wear the No. 2 headband. 
05
"Justice"

"JUSTICE"  

February 1, 2007
Afro battles with his childhood friend and makes his final ascension towards the number one, Justice. 
Community content is available under
CC-BY-SA
unless otherwise noted.